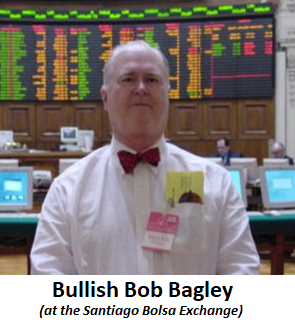 Bullish Bob Bagley was born in 1944 to an Air Force serviceman and a war-time bride in Dallas, Texas. After WWII, Bob's father graduated from Texas A&M on the G.I. Bill, and moved the family to Carrollton, Texas, in 1949. Robert Bagley, Sr. taught Vocational Agriculture in Carrollton ISD for 32 years and retired.
After graduating in the first class from R.L. Turner High School in May 1963, Bob accepted a full 4-year football scholarship to Baylor University where he played defensive guard. He majored in Economics and Finance with several hours also in journalism and marketing. Bob graduated in May of 1967, and entered law school that June. About a year later, he withdrew from law school and entered the brokerage business on September 1, 1968.
On September 1, 1989, Bob founded Bullish Bob Bagley Securities, Inc., a broker-dealer firm that has been in business continuously ever since.
Bullish Bob has been in the financial services industry over 50 years and looks forward to the next fifty!
Tres Bagley is a Dallas-area native and graduated in 1998 from Texas A&M University with a BS in Agricultural Economics. While at A&M, he was a member of the Corps of Cadets, the Fish Drill Team, and Company F-2 (Fightin' Fox Company). Tres began his career in the financial services industry at a small online trading broker-dealer in Dallas for one year before moving on to a fifteen-year stint at Southwest Securities (now Hilltop Securities). Tres' first five years at Southwest were in Equity Trading as an Agency Trader and Assistant Market Maker. His latter ten years were with Wealth Management, and during the last two he was Vice President and Retail Administrative Officer reporting to the Director of Retail, over the Private Client Group and independent financial advisors. He has been Series 7 registered since May 1999 and also holds the Series 4, 24, 55, 63, and 65 licenses. Tres started his practice at Morgan Stanley in May 2016 where he focused on small-to-medium sized business owners and families. In February 2018, Tres moved his practice to join his dad's firm, Bullish Bob Bagley Securities, Inc., where he is now part of a father-and-son financial advisor team and broker-dealer.
Tres resides in Grand Prairie, Texas, with his wife and three children. He spends his free time on his kids' sports endeavors, and hunting and fishing in the great outdoors.
His practice is based on a full commitment to clients in helping them to realize their financial goals and to give clients back their time for their families, hobbies, and personal interests. Tres is the #1 confidant for financial matters with his clients and works to help achieve their personal retirement goals, and to provide for their employees, heirs, and legacy.